If you are working with SharePoint 2010 enterprise features, You probably know that the Site Directory template is missing, The site directory is hidden because of compatibility issue while upgrading between SharePoint 2007 to 2010.
I will show you the workaround to enable it.
1. Browse to the following path on your server C:\Program Files\Common Files\Microsoft Shared\Web Server Extensions\14\TEMPLATE\1033\XML
2. Now open "webtempsps.xml"
3. Find the site directory template name "SPSSITES" and change the hidden value from true to false.
<Template Name="SPSSITES" ID="34">
<Configuration ID="0" Title="Site Directory" Type="0" Hidden="FALSE" ImageUrl="/_layouts/1033/images/template_site_dir.png" Description="A site for listing and categorizing important sites in your organization. It includes different views for categorized sites, top sites, and a site map." DisplayCategory="Enterprise" VisibilityFeatureDependency="5F3B0127-2F1D-4cfd-8DD2-85AD1FB00BFC">
4. Go to central admin and create new site collection, from the template you can see "Site directory" template under the enterprise site templates. Select this template and create new site.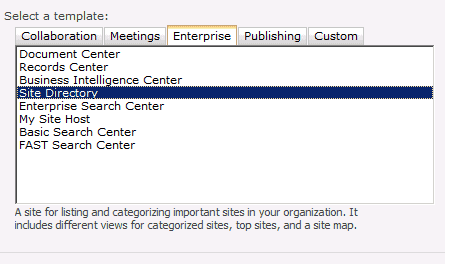 5. When site creation completes, go to the newly created site URL and confirm site template as you can see in below picture.