Step by step procedure to set SharePoint up to automatically cleans out unused sites:
Step # 1:
Central admin navigates to Application Management —–> Site Collections ——> Confirm site use and deletion
Step # 2:
Choose Web Application to be used for setup auto site deletion.
For Example: Use My Site Web Application. Then you have to check some of the given choices. Further changes can be made by choosing either Check for unused site collections, and send notices Daily/Weekly/ Monthly.
a).An e-mail notification will be send to owners of unused site collections. Send notifications 90 days after site collection creation, or use is confirmed.
b).Automatically delete the site collection if use is not confirmed delete the site collection after sending 28 notices you can change the 28 notification.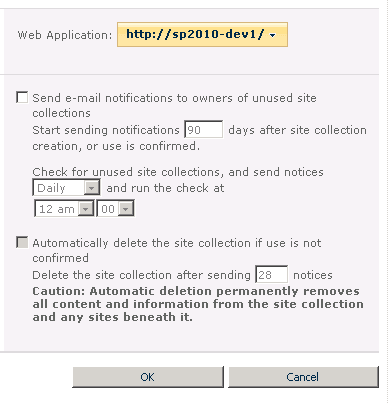 Also set up previously mail flow between SharePoint and your end users.