Recently I had to change mysite host URL in one of our environment. After I update my site hots URL and ran full user profile sync. Everything was working fine until I noticed that user images are not appearing inside user profiles.
I have started looking into the issue and done the following steps to figure out the problem
I have checked the user profile "Picture" property to make sure that It is mapped to "PhotoThumbnail" property of active directory
Then I have checked that the Farm account have permissions on User profiles
Using the farm account I have ran the photo import command again
Update-SPProfilePhotoStore –MySiteHostLocation http://mysiteHostUrl –CreateThumbnailsForImportedPhotos $true
With help of miisclient.exe I have confirmend that the picture property is pull the binary information from active directory.
I then went to my profile and right click on the "PictureURL" and selected "Properties" option which open up the "Properties" popup window. Suddenly I realised that the URL of my user profile picture is still pointing to the old my site.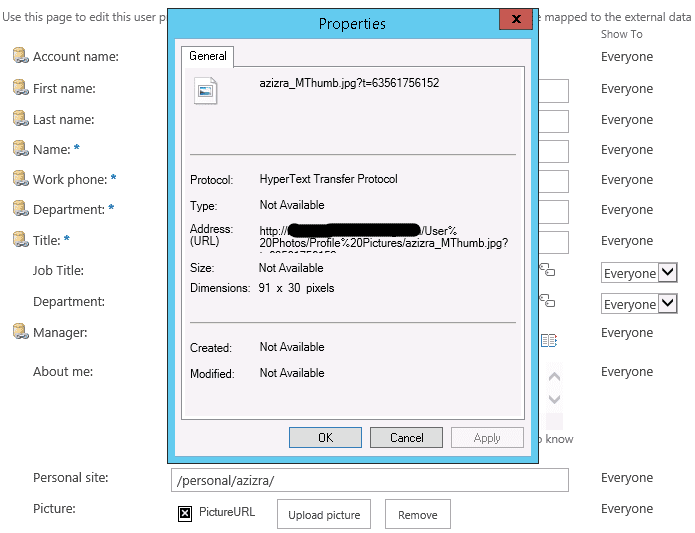 I have copied the above picture URL in the browser, updated the "mysite" host URL to new one and hit enter. I was managed to see my profile picture as below.

At last I managed to find the issue. Now it's time to fix it. So I wrote below PowerShell command to update all user profile picture properties URL.
$mySiteNewHostURL = "http://NewMySiteHostURL" 
$mySiteOldHostURL = "http://OldMySiteHostURL" 
$mySite = Get-SPSite $mySiteNewHostUrl 
$SPServiceContext = Get-SPServiceContext $mySite 
$userProfileManager = New-Object Microsoft.Office.Server.UserProfiles.UserProfileManager($SPServiceContext) 
$userProfiles = $userProfileManager.GetEnumerator() 
foreach ($userProfile in $userProfiles) 
{ 
#check if the picture property contain image URL, then replace it with new my site host URL
if ($userProfile["PictureURL"] -ne '') 
{ 
$oldImageUrl = $userProfile["PictureURL"].toString() 
$newImageUrl = $oldImageUrl -Replace $mySiteOldHostURL, $mySiteNewHostURL
write-host "Old Image Link = " $oldImageUrl " --> New Image Link = " $newImageUrl 
$userProfile["PictureURL"].Value = $newImageUrl 
$userProfile.Commit() 
}  
}
After I ran above PowerShell script, I was able to see picture inside my user profile as below. Happy coding